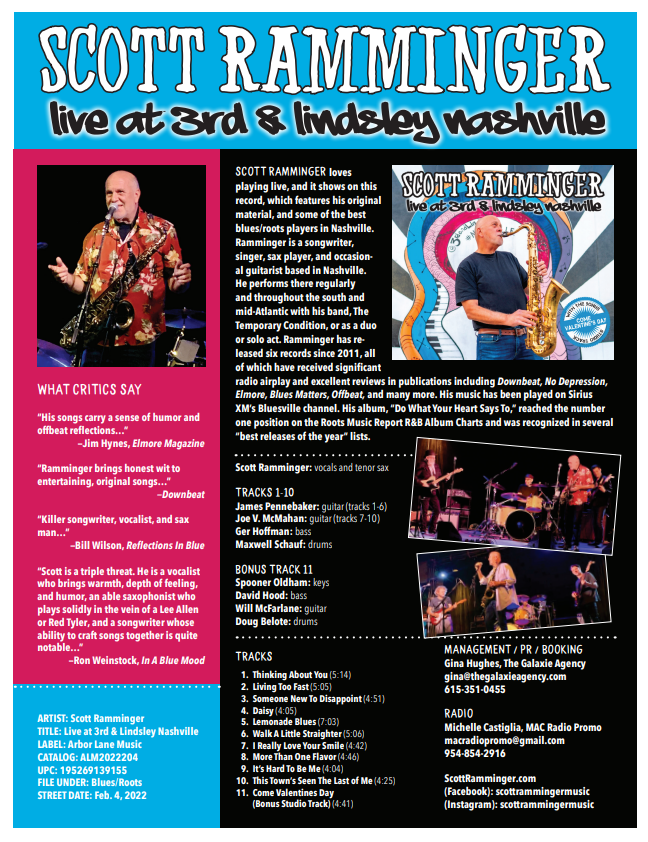 Album review - "Live at 3rd & Lindsley Nashville" by Scott Ramminger 
Scott Ramminger's new album Live at 3rd and Lindsley features 10 tunes recorded at in late 2021 at 3rd and Lindsley, plus one studio track cut at the Nutthouse in Muscle Shoals. 
In today's music world where so many things get marketed at 'blues', it's refreshing to hear an actual blues record. Scott has all the classic blues feels on one record – shuffles, straight ahead blues, slow blues, rockin' blues, swing and rumba feels. And he has some great players with him that breathe life into grooves that will get your toes tappin' and butt shakin'. Overall it's relaxed and organic sounding. Just how blues should be, in my opinion. 
There is also fine sax and guitar work throughout the record, with a focus on tone and phrasing that is often missed in today's world of guitar shredders. And with a small band – sax, guitar, bass, drums – you can really hear what is going on with each player. 
For me however, the thing that really kills on this record are Scott's songs and lyrics. Many of the tunes are about the often used blues topic of male-female relationships, but Scott hits this topic from such clever angles and with such a sense of humor it makes me want to hear each song over and over again. Many times I when think a song's story is headed one direction Scott spins it differently. I've caught myself chuckling out loud a couple times at the witty banter in Scott's tunes, all the while shaking my head to the groove. 
That is a great thing about music: Tell a joke, and even if it's a good one, it gets old after a couple tellings. However, put some witty humor with fine music and it just begs you to hear it again and again. And this is what Scott has done brilliantly with this record. 
I'd highly recommend this album to all blues fans. You can get a copy on CD from Scott Ramminger if you listen to him live, or check online at www.scottramminger.com